Mobile Development Strategy
Unique and creative design tailored to each client

CodeAnts has a team of mobile app developers who are highly skilled and provide end-to-end mobile application development services for all of the major platforms: iOS, Android, Windows Phone, etc. We are capable of handling the entire project lifecycle, from the concept to polished product.
One of our principal missions is to create apps that can make a significant impact in the mobile market. Startups and enterprises that partner with us to build mobile applications have continually discovered that their customers are delighted and their applications perform as expected. With the expanding role of technology in business, the right products can help businesses of all size grow.
At CodeAnts, we have developers who are highly motivated, and have knowledge of cutting-edge mobile application development environments, SDKs and APIs and methodologies. If you want iOS mobile app development, Android app development or a cross-platform product, our expert team has the skill necessary to bring apps of any complexity to life.
Apps that we create enhance your customer experience as well as the reliability. We have some of the highest engineering standards in the business. From the proper understanding of the MVC framework to bulletproof deployment standards, we don't cut corners with delivery.
We have delivered a wide range of mobile applications, including mobile game development for devices that use iOS, Android and the Windows Phone. We also offer application porting and mobile web development services.
One of our team's main goals is to ensure that your mobile device has a navigation methodology that doesn't require an explanation and is truly optimized for a market with a growing variety of devices. Mobile design must include form, function, suitable content and nimble and appropriate UI/UX design.
Full functionality that does not require an instruction manual is what your customers expect. We can help you deliver.
Mobile Development Methodology
Innovative & User Centered, Delightful Customer Experiences.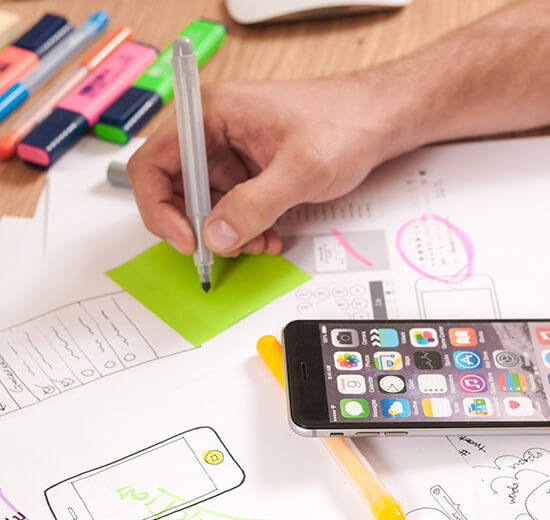 Mobile Development Consulting
Unique and creative design tailored to each client

At CodeAnts , we don't think that our work is complete once we deploy the application. We can deploy your app to the Apple app store and Google Play store and provide post-release support and maintenance services. You can be confident that your app will run optimally and be discoverable for the world to see.
We can also provide extensive app promotion services to ensure that your product stands out from the crowded app marketplace. If you need to fix an existing application, we have a professional and dedicated team of mobile-focused designers, UI/UX experts, technical architects and developers. They will ensure that you receive top quality solutions to handle your business. Contact us today to see how our expertise can take your business to the next level.